CEEO Newsletter - March 2009

From the Director

The Center has continued to change over the last few months. We have hired two new employees: Magee Giarrosso and Gay Lemons, and Susan Rockwell (our long time administrator) is stepping down to complete nursing school (she still helps out part time). Amul Goswamy graduated in December with a M.Ed. in science and education. He spent a few months in New York City and recently returned to California. Last month, Morgan Hynes defended and became our first graduated Ph.D. in engineering education. His thesis centered on examining middle school teachers' knowledge of engineering and how to teach it.

One of our thrusts over the last few months has been to increase our industrial collaborations. We are starting a collaboration with Raytheon, building off of their MathMovesU program. We visited GE, the Exploratorium, Google, Klutz Books, and Pixar Studios to look for possible collaborations. We also continued our collaborations with National Instruments and Symantec.

One of the most exciting events for me, though, was the initiation of PET (Program for Engineers as Teachers). Funded by the Kodosky Foundation, the goal of this program is to increase the number of engineers impacting the classroom. We plan on doing this in 3 ways: (1) increase the number of engineers becoming teachers at Tufts, (2) develop an undergraduate minor in engineering education to encourage more engineers to become leaders in teaching the next generation of teachers, and (3) start a new undergraduate and graduate program in developing tools for the classroom. Over the next 3 years, we hope to put into place the first program in the nation that combines tool development and education research to improve STEM education.

Finally, we are also looking at lots of ideas to make the CEEO more environmentally friendly, from zip cars to reusable coffee mugs. We also looked into installing a ball pit in the Center, but compromised and got a ping-pong table instead.

~ Chris




Ethan Searl in the Google Ball Pit

Included
in this Newsletter

Design and Engineering Workshops



The CEEO Heads to Saudi Arabia


Magee Giarrosso



I graduated from Suffolk University, receiving a B.S. in Sociology. During college I was in the Sociology Tutoring Program, tutoring students in concepts of Sociology. This is where I learned the joy of helping students develop in a specific subject, and this is what attracted me to joining the CEEO. In December 2008, I joined the CEEO team as Staff Assistant.


My role at the CEEO is to provide administrative support to CEEO staff and students. My responsibilities include management of CEEO office assistants, booking travel, purchases, accounts management and maintaining the office. I will help develop systems to organize and improve day-to day operations and communication within the office. I will also be the liaison with all visitors and those inquiring about CEEO.


I have really enjoyed working at the CEEO and have learned so much already. Everyone is so warm and welcoming here and I feel lucky to be part of the team!




Gay Lemons
My part-time job at the CEEO evolved into a full-time postdoc position in January of this year. Although my doctorate is in Educational Psychology, my area of research interest has been the cognitive process of creative problem solving and this background has proven to be beneficial to my work at the CEEO. As part of the larger project of looking at service learning as a pedagogical tool, my focus has been the development of a hands-on assessment to compare the design processes of service learning and non-service learning engineering students. A second focus is examining why service learning attracts a more diverse set of engineering students than is currently represented in the population of engineering students as a whole.

I look forward to contributing to our understanding of service learning and hopefully, use it to attract more minority students into STEM programs. I feel blessed to have this incredible learning opportunity and working with a phenomenal team of people on this exciting and worthwhile project.




Gay Lemons
Design and Engineering Workshops
The CEEO has offered workshops to students and teachers for the past ten years. Each year, our workshops become more popular. This past summer, the CEEO invested additional time and money in order to increase the quality and number of programs we offer. This increased initiate is now called Tufts CEEO Design and Engineering Workshops (DEW) and is headed up by Erin Riecker and Elissa Milto. The goal of DEW is to provide educators and students with resources and opportunities for learning engineering.

Since July 2008 we have offered several new workshops. The first new workshop was during the summer of 2008- Robotics and Art. Targeted at girls entering grades 2-5, the workshop featured challenges that allowed the participants to create art projects using craft supplies, LEGO pieces, and the RCX. To practice sturdy building, the first challenge had girls build "stampers" - LEGO bases that held foam stamps. When complete, the girls created their custom bookmarks using their stamp designs. Next the girls were introduced to ROBOLAB programming by creating parade floats - RCX cars they decorated with a theme, such as the Red Sox or Tropical Island, and programmed to drive around the room. Abstract art was the theme for the third challenge. By attaching markers to an RCX car and programming it to drive under the control of two touch sensors, each student was able to create her own abstract masterpiece. Finally, the girls created kinetic sculptures using the RCX, motors, sensors, and LEGO pieces. This workshop will again be offered this summer.
| | | |
| --- | --- | --- |
| | | |
| Stamper and Sturdy Handle | | Bookmarkers from Sturdy Stampers |

In the past few months we have held classes for home school students and increased our commitment to local after-school programs. We've also continued to offer Saturday workshops for students. This year we offered a series of four Saturday workshops called Inventors Workshop. Each of the Inventors Workshops has a theme such as assistive devices or games. The Inventors Workshop series is part of our effort to grow long-term relationships with students and their parents. We want to change the workshops offered at the CEEO from a one-time opportunity to a breadth of learning opportunities spanning several years. As part of this effort, we are expanding the range of targeted participants. This summer we will offer a workshop designed specifically for high school students that will be taught by one of our consulting teachers, Barbara Bratzel. This workshop will look at the high-end of design possibilities using the NXT kit.
As we've worked with an increasing number of students, we've talked with many parents. Through these conversations, we've realized that parents would also like the opportunity to learn about LEGO Engineering and Robotics. Parents would like to understand what their children are doing, as well as work with them while they are creating the projects. In response to this interest, we've offered the Parents' Morning Out Series, an introduction to building and programming with the RCX and NXT, and LEGO Robotics with Parents and Children, a Saturday workshop that gave parents and children a chance to work side-by-side.


As we've worked with an increasing number of students, we've talked with a number of parents. Through these conversations, we've realized that parents would also like the opportunity learn about LEGO Engineering and Robotics. Parents would like to understand what their children are doing as well as work with them while they are creating. In response to this interest, we offered the Parents' Morning Out Series, an introduction to building and programming with the RCX and NXT. We also hosted LEGO Robotics with Parents and Children, a chance for parents and children to work side-by-side.

Tropical Island Kinetic Sculpture


The focus of the past year for the Design and Engineering Workshops has been to increase the number and themes of workshops offered. We will continue to offer the new programs in addition to our traditional Co-ed Summer Programs for early elementary and middle school students. As the year continues, we will turn our attention toward increasing the workshops we offer for educators.
Tufts STOMP launched into the 2008-09 school year with remarkable success, hiring the most STOMP fellows and partnering with the most teachers in the program's seven-year history. There are 13% more STOMP fellows and 22% more partnering classrooms this academic year than the last.

Tufts STOMP's success rate this year is largely due to the efforts of the new program manager Adam Carberry and program coordinator Elsa Head. Adam is a Ph.D. student in the MSTE Education program whose current research focuses on how learning engineering through service-learning improves student engineering self-efficacy, perceptions of engineering, and cognitive understandings of engineering. Elsa Head is a senior engineering student who has been a member of STOMP for two years and worked at the CEEO over the summer helping Adam develop the new STOMP website and create other program resources. Between Adam, Elsa, and a well-experienced executive board, STOMP has already and will continue to make a positive impact on Boston's public schools this academic year.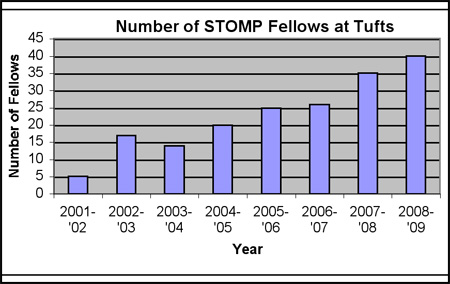 Number of STOMP Fellows at Tufts
2008-2009

Two unique additions to this semester's STOMP includes the participation by a Tufts physics professor, as well as a special sustainable design project involving the design and construction of a green roof at the Prospect Hill Academy in Cambridge. A relationship has also developed between Tisch College's Student Scholars program and STOMP, therefore connecting STOMP more closely with all of Tufts Arts and Sciences outreach programs.
STOMP Network is also expanding with University of Arizona as a new member, which launched their STOMP program through the hosting of a LEGO Engineering conference in the summer of 2008 to excite Tucson teachers with STEM support in the classroom. Then, in the fall of 2008, STOMP Network branched internationally and supported both a LEGO Engineering conference in Zurich, Switzerland, and a pilot classroom workshop which reflected the beginning stages of a STOMP program at Swiss Federal Institute of Technology (ETH), one of the world's premier robotics research universities!

In additional to launching new STOMP sites, Tufts STOMP is playing a role in strengthening existing sites. In September, two STOMP fellows, Elsa Head and Kara Miranda, traveled to Princeton to run a training for over 20 new Princeton Engineering Education for Kids (PEEK) members. This training was a success and helped tremendously in reviving PEEK, which is Princeton University's equivalent of STOMP.

Looking ahead, the University of Southern California in Los Angeles will be joining the STOMP Network this spring, and we hope to continue to support additional universities and industries in STEM outreach efforts through the STOMP Network's online resources.




The CEEO helped facilitate a STOMP workshop in a Zurich 5th grade classroom in November 20
The CEEO Heads to Saudi Arabia

During the first week of January 2009, four CEEO graduate students - Adam Carberry, Susan Tse, Kristen Wendell, and Chris Wright - traveled to Jeddah, Saudi Arabia, for an incredible experience as LEGO engineering workshop facilitators. The workshop was part of an orientation event for college students admitted to a new research university that will soon open on Saudi Arabia's Red Sea coast. Over 350 accomplished students from more than 40 different countries attended the event in Jeddah to meet each other, visit their new campus, and begin forming a community of scholars.
| | |
| --- | --- |
| Kristen, Chris, Adam, and Susan | The CEEO members' role in the week-long program was to help facilitate a two-day team-building workshop that involved LEGO engineering and LEGO Serious Play. A team of twenty experts from around the world facilitated and motivated the students in working together toward one common goal. The students worked in teams of four to six to gain confidence and experience in communication, teamwork, and LEGO robotics. The objective for each individual team was to construct a motorized contraption capable of moving a ping-pong ball over a one-meter distance. Then, each team had to find a way to link their contraption with the team in front of and behind them. The workshop culminated with the sixty-four teams successfully moving dozens of ping-pong balls around the large hotel ballroom in an "infinity loop." |
The LEGO engineering workshop was a great success and an appropriate jumping off point for the soon-to-be graduate students. The CEEO representatives were lucky to be involved in this history-making event with such a diverse group of talented people. The students were intelligent and interesting, our Saudi Arabian hosts were extremely welcoming, and the chance to experience life in a cosmopolitan but Islamic city was once-in-a-lifetime! The success of the workshop hopefully will present additional opportunities for the CEEO.

Upcoming LEGO Engineering Conferences and Symposium
Conferences
March 28 - Carlsbad, CA, USA
April 11 - Tuscon, AZ, USA
April 18 - Los Angeles, CA, USA
April 18 - Colorado Springs, CO, USA
May 1 - Enfield, CT, USA
May 16 - Bozeman, MT, USA

Symposium
June 1 & 2 - Boston, MA, USA

Visit LEGOengineering.com for more information on LE Conferences.
CEEO Summer Workshops